Master or Slave?
Dilbert, Dogbert and the Scott Adams New Order at Work
By: John Shepler
Well, I've gone and done it. I've signed up to become a member of Dogbert's New Ruling Class, the DNRC. Oh, it started out innocently enough as a simple expedition on the Internet to see what others were doing with electronic newsletters. A couple of hours later, I found myself deeply mired in the wealth of content that is the Dilbert site.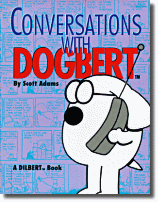 I catch the Dilbert cartoons in the paper every once in awhile and even have a little Dogbert mascot on the dash of my car. Dilbert and Dogbert are the 90's edition of the Peanuts characters, Charlie Brown, Lucy and Linus, that we grew up with. OK, so we still read Peanuts, too. The two comic strips are actually complementary. Snoopy and Woodstock share a philosophy of life based on home and school. Dilbert and the gang show us the humor in everything we take so seriously at work.
Now what about this DNRC? It sounds exclusive, either in the snobbish sense of carving out a little niche of superiority, or the more sinister sense of gangs , cartels and subversive political fringe groups. Or, maybe it's just some nutty cult thing. The stated mission is that "when Dogbert conquers the planet and becomes supreme ruler, everyone who subscribes to the free Dilbert Newsletter will form the New Ruling Class and have complete dominion over everyone else. The others (we call them In-duh-viduals) will be our domestic servants. Don't let that happen to you."
So, what's it going to be for you? Master or Slave? I'm not sure I like the idea of either role. I thought we were beyond that kind of repressive mentality and into an era of equality, contributions through team spirit, and general acceptance of all individuals. And what about these people who are spelled in-duh-viduals? Are these people we know?
To find those answers, I researched newsletter #17. I expected to find a piece that was, well, dog-matic. No so. Dogbert is really more the editor than the author. The contributions come from people all over the world who choose to share vignettes of life among their co-workers and others with whom they come into contact . There are a lot of little stories to pick from, but I liked this one:
"I was visiting Windsor Castle, outside of London, on vacation. Windsor Castle is directly in the flight path of Gatwick International Airport. While standing outside the castle admiring the elegant structure, a plane flew overhead at a relatively low altitude making a tremendous amount of noise. One particularly annoyed American tourist in-duh-vidual standing next to me whined, "why did they build the castle to close to the airport?""
Alright, yes, brotherhood of mankind or no brotherhood of mankind, I'd like to distance myself from these in-duh-viduals. My heart wants to be inclusive of everyone, but at some point you just have to cut the cord and let some of them go...for your own sanity.
Still, I'm not that much of a joiner, and I really needed more of a reason to get involved in this Dilbert-Dogbert movement to unite the enlightened technological class. The clincher came when I discovered that they had a tool in their domain. It's a tool that can save us countless hours of needless frustration in our business transformations of reengineering and reorganization into enterprises.
Let me set the stage. One of the most difficult parts of creating any new organization is defining the unique purpose of the enterprise, that which sets it apart from all others and gives it a business imperative. Often, executives tackle this monumental task over days or weeks of wrangling at off-site hideaways. It's a crucial chore. The quality of the result can make or break the fledgling operation. Amazingly, the application of artificial intelligence (no doubt cyber-canine) has taken all the stress and drudgery out of this responsibility. All you need to do is to access the Dogbert "Mission Statement Generator" software with nothing more sophisticated than Netscape or Microsoft Internet Explorer. With the push of a button, your purpose is displayed with an eloquence rarely seen in these proclamations. Here's one I generated in no time for our engineering group:
"We seemlessly maintain quality technology in order to enthusiastically enhance high-payoff content to exceed customer expectations."
Even simpler, if you want something for a business card: "Our mission is to synergistically engineer competitive deliverables."
Incredible, eh? How about this for Information Services: "It is our business to continually initiate performance-based paradigms to allow us to collaboratively network scaleable deliverables for 100% customer satisfaction."
Here's another that could easily improve the world-class stature of the Human Resources organization: "Our mission is to continue to completely leverage existing principle-centered leadership skills and interactively facilitate seven-habits-conforming intellectual capital while promoting personal employee growth."
I'll not hoard the technology. You can access it yourself to get your own organization empowered in reengineered enlightenment (it's starting to rub off) by setting your browser to the Dilbert site listed below.

Books of Interest:
Conversations with Dogbert by Scott Adams
Dogbert's Top Secret Management Handbook by Scott Adams
Dogbert's Clues for the Clueless by Scott Adams
Also visit Books-A-Million
for an excellent selection of new books, magazines, e-books, audio books and more at low, low prices.
Who Moved Your Cheese? - You might be astounded to find out what is really going on in the corporate world. Face it, Your Boss is a Rat is a must-read expose for every employee, especially those enamored by the best selling business guide, "Who Moved My Cheese?" by Spencer Johnson, M.D. Warning: not for the faint of heart or anyone on executive row.
Also visit these related sites:
The Official Dilbert Site - This is the home of Scott Adams, Dilbert, Dogbert and the rest of the gang. Features funny stuff with comics and mashups.
Dilbert Fans Resources - Links to lots of blogs and fun things related to Dilbert, courtesy of Answer Connect.
Work 2.0: It's the Revenge of the Employees - Bill Jensen's convinced that employees are going to create the next version of the unwritten employment contract. Find out how to seize the day at work.
Classic Articles Portfolio - Policy & Contact Info - New Home Page
Copyright 1997 - 2018 by John E. Shepler. Contact me at: John (at) JohnShepler.com
Sponsored by Telexplainer - We proudly offer Blue Wave Election, Write is Might, Sheep For T1, Cloud Brokerage Service, Gigapacket Tech Gifts, Toasty Leads, Copper Ethernet, Fiber Network Quotes, Ethernet over Copper, Cloud Networking Services, Help an Elephant, Loves Elephants, Ether Rabbit, MPLS Networks Today, Ethernet Today, DS3 Today, T1 T3 Today, Ethernet Buildings, MegaTrunks, Gigapackets Fiber Optic, T3 Rex and T1 Rex. We are members of numerous affiliate programs, including the commercial telecom services of Telarus, Inc.
First Published: December 7, 1997 as part of A Positive Light