Space Shuttle Commander Eileen Collins
NASA Astronaut, Pilot, and Chandra Mission Commander for Space Shuttle Columbia - A Tribute
By: John Shepler
"And we have a liftoff, reaching new heights for women and astronomy." The summer night's sky was aglow with fire, and the crackling roar of the Space Shuttle Columbia nearly drowned out the historic announcement by NASA launch commentator Lisa Malone. In command of Columbia as it departed the Kennedy Space Center was United States Air Force Lieutenant Colonel Eileen Marie Collins, America's first female space shuttle pilot and now shuttle commander. She is responsible for the safety of the crew and accomplishment of the STS-93 mission, which is historic in many ways.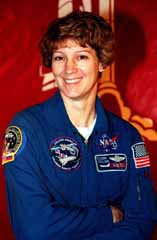 Eileen Collins has been entrusted with the AXAF, Advanced X-ray Astrophysics Facility Imaging System. It is the heaviest shuttle payload yet at over five tons. The AXAF, now called the Chandra X-ray Observatory, rivals the Hubble Space Telescope in size and importance. In its orbit that swings almost 40,000 miles from Earth, Chandra allows us to see far deeper into the universe. Astronomers have had at least 18 years of dazzling images and data from exotic celestial objects such as exploding stars, quasars and matter being sucked into and destroyed by black holes.
Watching Columbia blast off and race through the night sky at 8,000 miles per hour was 88 year old Lalitha Chandrasekhar. Her late husband, Subrahmanyan Chandrasekhar was the Indian-American astrophysicist known as Chandra, for whom the X-ray telescope is named. He won the Nobel Prize in 1983 for his theoretical studies on the physics of stars and is regarded as one of the most important scientists of the 20th century. He died in 1995. His name, ironically, means "moon" or "luminous" in Sanskrit.
Also perhaps ironic is that the name "Columbia" is considered to be the feminine personification of the United States, derived from the name Christopher Columbus. Her commander is the first woman that NASA has put in charge of a space flight in 38 years of human flight. Other women got to space first, notably Valentina Tereshkova who orbited in the Soviet Vostok in 1963 and Sally Ride, the first American woman in space in 1983. But Eileen Collins, 42 years of age, is the first to command a shuttle.
She was born and grew up in Elmira, New York, as the early days of the space age unfolded in the 1960's. Eileen watched "Star Trek" and "Lost in Space" on television, but it was something else that got her excited about flying. In her teens, she read and absorbed the stories of famous women aviators, including Amelia Earhart and the WASPS, Women Airforce Service Pilots who ferried aircraft into dangerous situations to support the troops in World War II. She was inspired to save her money and get a pilot's license in 1977. With that, and a degree in mathematics and economics from Syracuse University, she was set to follow those brave women into aviation history. She was one of the first women to go directly from college into Air Force pilot training.
Eileen Collins became a T-38 instructor pilot from 1979 to 1982, then became an aircraft commander and instructor in C-141 cargo jets at Travis Air Force Base. She met her husband Pat Youngs while they were flying the C-141s together, and they married in the Air Force Academy chapel. Eileen might have spent her career emulating the WASPS she so admired, but an even greater opportunity presented itself with the space program. Graduating from the USAF Test Pilot School in 1990, she was selected for the astronaut program in July of 1991.
Eileen Collins is well prepared for taking command of delivering the $1.5 billion Chandra to space. She has logged over 5,000 hours in 30 different types of aircraft and has over 419 hours in space. In February of 1995, she became the first female shuttle pilot, flying STS-63 to rendezvous with the Russian Space Station Mir. Her experience was put to the test during the launch of Columbia, when an electrical short knocked out one set of computers for the Shuttle's main engines, an instrumentation display in the cockpit failed and the engines ran out of fuel several seconds early, leaving the Shuttle in a lower than expected orbit. Collins took all this in stride and proceeded to release Chandra on schedule with all satellite systems functioning perfectly. On Sunday, July 25, she got a call via a ham radio link from commander Viktor Afanasyev aboard the Mir Space Station. "I would like to congratulate you from the bottom of my heart," he said, "You are a courageous woman."
Eileen Collins has achieved the dream she spoke of at the White House when she was named Space Shuttle commander. "When I was a child, I dreamed about space - I admired pilots, astronauts, and I've admired explorers of all kinds. It was only a dream that I would someday be one of them. It is my hope that all children, boys and girls, will see this mission and be inspired to reach for their dreams, because dreams do come true!" And so they do.
Books of Interest:
Astronauts by Allison Lassieur. Describes how astronauts are trained and how they live and work in space and discusses some famous male and female astronauts. Targeted for younger readers.
Women Astronauts with CDROM by Laura S. Woodmansee.
Sally Ride, First American Woman in Space by Carole Ann Camp. A biography of Sally Ride, who in 1983 became the first American woman to travel in space.
Mae Jemison by Sonia W. Black
Find Where the Wind Goes, Moments from My Life by Mae Jemison. Dr. Mae Jemison--chemical engineer, scientist, teacher, and the first African-American woman to go into space--shares the story of her life. In this autobiography, she traces her life from her childhood determination to fly into space to when she made history as she blasted into orbit aboard the space shuttle "Endeavor".
Countdown; A History of Space Flight T. A. Heppenheimer. The race to put a man on the moon provided the perfect metaphor for scientific achievement, one that challenged and captured the public imagination. Yet in addition to its science-fiction glamour, the space race served equally powerful and social objectives. Countdown provides the first overview of the period that explores the achievements and failures of all sides of the space race in their full historical context.
Also visit these related sites:
Eileen Collins Astronaut Bio - Official NASA biographical data.
Chandra Space Telescope - Still in orbit, the Chandra Space Telescope provides X-Ray images of the Universe.
Space Shuttle Era - NASA site that offers a complete list of Shuttle launches and facts about the amazing Space Shuttle.
Space Shuttle Discovery and Moon - Unique gifts that honor the exciting days of the Space Shuttle.
Historic Apollo 11 Moon Mission - Souvenir buttons, stickers, t-shirts and more celebrating the 50th anniversary of this one small step that changed the world for all of us.


Gifts with the theme James Webb Space Telescope. Shop Now For the Holidays.
Classic Articles Portfolio - Policy & Contact Info - New Home Page
Copyright 1998 - 2022 by John E. Shepler. Secure APS. Contact me at: John (at) JohnShepler.com
Sponsored by Telexplainer - We proudly offer Enterprise VoIP, MPLS Networks Today, Blue Wave Election, Write is Might, Rural Broadband, Cloud Brokerage Service, Cloud Computing Carriers, Gigapacket Tech Gifts, Copper Ethernet, Fiber Network Quotes, Ethernet over Copper, Cloud Networking Services, Help an Elephant, Loves Elephants, Ether Rabbit, MPLS Networks Today, Ethernet Today, DS3 Today, T1 T3 Today, Ethernet Buildings, MegaTrunks, Gigapackets Fiber Optic, T3 Rex and T1 Rex. We are members of numerous affiliate programs, including the commercial telecom services of Telarus, Inc and specially designed products through our Gigapacket Store on Zazzle.