Kurt Elling, Jazz Messenger
A Unique and Talented Jazz Singer for Today
By: John Shepler
I watched and listened in utter fascination as Kurt Elling came on-stage, stepped well away from the microphone, and proceeded to emulate what seemed to be a muted saxophone. Swaying from side to side, you could see him holding an invisible horn in his hands as his lips modulated the notes. This was clearly the prelude of a most unusual musical experience.
Kurt Elling is so versatile that you may have heard several of his pieces and not known it is the same man. One minute he's singing scat, that rapid-fire sequence of syllables that take the place of lyrics. The next minute, he's shifted into something smooth and traditional like "April in Paris." When he does, the resemblance to the legendary Frank Sinatra is uncanny.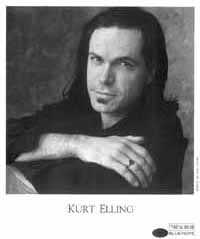 I'm not sure what to make of Kurt Elling, but I certainly do enjoy his music. I'm speaking as a layman, here, with little knowledge of those smoky clubs they call the "jazz scene." I doubt I'd even know a true hipster from an impostor. Actually, I got hooked on jazz when I discovered its calming powers over rush hour traffic on Chicago's Eisenhower freeway. Most of the time, now, the car radio is tuned to WNIJ, which broadcasts jazz, including Kurt Elling, to northern Illinois in the evenings.
Barbara is the jazz aficionado. She discovered Kurt Elling on WNIJ and bought his first release, "Close Your Eyes." It's because of her that I found myself in the best seats in the house, front row center in the balcony of the Rockford Theater. Kurt Elling was center stage, with his collaborator and producer, Laurence Hobgood, playing the grand piano, Rod Amster on bass and Michael Raynor playing the drums. They are the Kurt Elling Quartet.
If you have a chance to catch the Kurt Elling Quartet in performance, don't hesitate. It's a treat you'll remember and want to repeat. If you can't, the closest experience is any of the three albums, "Close Your Eyes," "The Messenger," and the most recent, "This Time It's Love."
Kurt Elling has beautifully resonant natural voice that, like Frank Sinatra, would sound extraordinary with any band or type of music. His ballads are creamy smooth and something hypnotic. You find yourself lulled into a relaxed state, but conscious of the words and message. While listening to the albums, it's hard not to feel sorry for the lives being wasted in the "Ballad of the Sad Young Men". His love for his new wife Jennifer comes across clearly in "She's Funny That Way." I find myself identifying with the sense of home and relationships in "Where I Belong".
Interestingly, Kurt Elling has Rockford roots, as we do. He introduced his parents, Henry and Martha Elling, who live here. Perhaps it's just a quirk of fate that we've had the good fortune to attend not one, but two performances of Kurt Elling this year. Especially, when you consider that his star is accelerating skyward in the music industry. At 31, he's already had two Grammy nominations. His record label, Capitol's Blue Note, is said to be the premier label in jazz. He's played Carnegie Hall and all the major jazz festivals. You can often find him at his home base, the Green Mill in Chicago. When he's not home playing club dates, his tours take him as far away as New York, Los Angeles and Israel.
I suspect that we've only experienced the very beginnings of what will be an exceptional and eclectic music career for Kurt Elling. His on-stage performance gave us a taste of the range of his theatrical as well as musical abilities. One of his pieces recasts the famous "Friends, Romans, Countrymen" eulogy for Caesar into the jive language of cool cats, hipsters and beat poets. Here, Elling is paying tribute to Lord Buckley, a poet-comedian who popularized that style of parody. Another of Kurt Elling's pieces is a narrative based on the story "How the Thimble Came to be God" by poet Rainer Maria Rilke. The melody comes from a piece by Dave Brubeck and Paul Desmond and is called "Those Clouds are Heavy, You Dig?" You'll find it on his "Close Your Eyes" album.
Probably the most fascinating characteristic of Kurt Elling's talent, more than his ability to write a song or perform it, is the command he has of his voice as a musical instrument. One minute it's rumbling like thunder in the distance, the next it's shrill as a trumpet. His style mixes standard vocal performance with scat singing and improvised sounds, known as vocalese, that he just seems to drop in to enhance the experience, or perhaps just for fun. Out of nowhere, he makes his voice create the repetitive scratchy sound of an old 78 record and, buried in the noise, plays the tune of "La Vie en Rose," a song popularized during the era of scratchy 78 RPM records.
Kurt Elling's second album, "The Messenger" is perhaps the title that will become attached to his name. Not just for the professional jazz musicians and serious collectors who recognize him as one of the emerging greats of our time, but for the rest of us on the periphery, who welcome someone who can help us also enjoy the message of jazz music.
CD's of Interest:
Flirting with Twilight - His CD features a melodious selection of romantic jazz standards.
Live in Chicago - If you have never heard Kurt sing live, you've missed out on his best performances. This album was recorded over three nights at Chicago's legendary Green Mill, Kurt's regular hangout. It's a must have for any Kurt Elling fan. To hear the real Kurt Elling, click through and check out the sample tracks.
This Time It's Love - A collection of love songs including "My Foolish Heart," "Where I Belong" and more. This album garnered Kurt his third Grammy nomination for Best Jazz Vocal Performance.
The Messenger - This highly acclaimed CD is perhaps the hippest of his recordings.
Close Your Eyes - Kurt's first release from 1995 clearly displays his considerable talent. A mix of ballads, rants and vocalese, always with the right touch of emotion. His vocal control is amazing.
Club Nocturne - by the Yellowjackets. Kurt Elling joins them on the up tempo "Up From New Orleans" and the aptly named "All is Quiet." Other guest artists include Jonathan Butler, Brenda Russell and Richard Page.
Also visit these related sites:
Kurt Elling - Come to the official web site of Kurt Elling. You'll find discogrophy, about the band, touring information and more.


Help provide advanced technology bionic arms to the war victims of Ukraine
Classic Articles Portfolio - Policy & Contact Info - New Home Page
Copyright 1998 - 2022 by John E. Shepler. Secure APS. Contact me at: John (at) JohnShepler.com
Sponsored by Telexplainer - We proudly offer Enterprise VoIP, MPLS Networks Today, Blue Wave Election, Write is Might, Rural Broadband, Cloud Brokerage Service, Cloud Computing Carriers, Gigapacket Tech Gifts, Copper Ethernet, Fiber Network Quotes, Ethernet over Copper, Cloud Networking Services, Help an Elephant, Loves Elephants, Ether Rabbit, MPLS Networks Today, Ethernet Today, DS3 Today, T1 T3 Today, Ethernet Buildings, MegaTrunks, Gigapackets Fiber Optic, T3 Rex and T1 Rex. We are members of numerous affiliate programs, including the commercial telecom services of Telarus, Inc and specially designed products through our Gigapacket Store on Zazzle.