Alfred Hitchcock, Still the Master of Suspense
By: John Shepler
"Goood Eeeevening, Ladies and Gentlemen." In the 1950s and 1960s, "Alfred Hitchcock Presents" and "The Alfred Hitchcock Hour" were among the most enjoyed and anticipated shows on television. He was always a perfect gentleman, well dressed and well mannered. His grandfatherly image and unintimidating soft features and portly silhouette belied the fact that film director Alfred Hitchcock's single mission, in the movies and on TV, was to scare you out of your wits. Even today, 100 years after his birth and 75 years since he directed his first movie, the "Master of Suspense" can still have you biting your nails and too riveted with anticipation to even think about taking your eyes off the screen. It's an amazing feat, considering that Alfred Hitchcock has not been with us for nearly 20 years.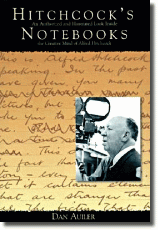 He was born Alfred Joseph Hitchcock on August 13, 1899 in Leytonstone, in the London borough of Waltham Forest. His father, William, was a moderately successful poultry dealer, greengrocer and fruit importer. His mother was the former Emma Whelan. Alfred was the third and youngest child in the family. He might have gone on to follow in his father's footsteps or develop a career of less notoriety except, perhaps, for a chilling incident in his early youth.
Alfred was just five years old the day he committed some misdeed that convinced his father he needed a lesson in discipline. William sent him down to see the chief of police, with a note about what should be done to teach Alfred the error of his ways. The police chief promptly put him into a cell and slammed the door shut. Later, Alfred recalled that "the sound and solidity of that closing cell door and the bolt" never left his memory. It was an experience that would probably have left an impression on a boy twice or three times his age, even though he was really only abandoned behind bars for five minutes. Upon his release, the officer made sure to impress him with the chilling words "that's what we do to naughty boys."
Alfred's fear of authority and punishment was reinforced during his years at the Jesuit school, St. Ignatius College. At that time, corporal punishment was meted out by ritual beatings on the hands with a hard rubber strop. Alfred Hitchcock would later recall that those incidents felt to him much like "going to the gallows." Punishment, and the terror of it being unfairly administered by the police to someone undeserving, would later emerge in Hitchcock's movies, particularly "The Thirty-Nine Steps," "I Confess," "The Wrong Man" and "North by Northwest."
Indeed, what makes many of Alfred Hitchcock's movies so compelling is his focus on ordinary people being drawn into extraordinary and frightening events. There are no giant beasts or extraterrestrial beings. The monsters may well be the neighbors across the way, as in "Rear Window," or inside the psychotic mind of an otherwise likable young man, namely Norman Bates in "Psycho." Espionage, terrorism and military sabotage, genuine fears during the years leading up to World War II and throughout the Cold War, formed the basis for "North by Northwest," "Secret Agent" and "Saboteur."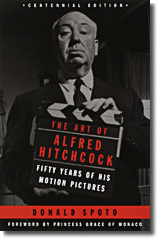 He is reported to have said that "the easiest way to worry people is to turn the tables on them." In a Hitchcock film, the enemy spy isn't James Bond or someone traveling in elite circles. It's the next door neighbor you'd never suspect. The most unassuming character is really the murderer. The situations are everyday occurrences, much like places you and I would go and people we would be likely to meet or pass by. You soon start to think, "That could really happen...and it could happen to me!"
Another technique that Hitchcock used to build suspense was to get the audience in on the real danger early in the movie, but leave the characters in the dark. In "A Woman Alone," also called "Sabotage," he has a delivery boy carrying a package that contains a time bomb set to go off at 1:45 PM. The audience knows this but the delivery boy only knows he's been told to deliver the package to an address in London by 1:30. As he dawdles down the street, distracted by this and that, tension builds as the clocks keep ticking off the minutes. Finally, he boards a bus to make up time. The bomb sits quietly in its unsuspected wrapping paper, while the passengers chatter about what passengers usually chatter about until.....
Well, you get the idea, don't you? Hitchcock thrillers still take you to the edge of your chair every time. All this from a man who, himself, was the antithesis of sensationalism. He lived quietly. His vices were fine wines and gourmet food, which he was reluctantly forced to moderate with dieting to maintain a modest 220 pounds for his 5 foot 8 inch frame. His wife, Alma, was both his life's companion and a partner in the film making process. He was also blessed with a daughter, Patricia and three grandchildren. He was never known to raise his voice on the set, and employed a methodical technique of painstakingly sketching every camera shot in the movie, leaving nothing to chance in the filming. His most notorious remark, often misquoted, was that "actors are like children.They should be treated like cattle." Perhaps that was true disdain for the fickleness of performers or just another Hitchcock "tongue in jowl" comment.
The "Master of Suspense" was also a noted practical joker and would have relished the knowledge that the centenary of his birth fell on Friday the 13th, 1999. One of his favorite pranks was to start an engaging story in a crowded elevator and then stop just short of the punch line as the door opened and he exited to his floor. Now, as for fate of that poor boy entrusted with delivering the explosive package seated next to him on the bus and the other unsuspecting passengers in the movie "Sabotage," well I'm afraid we've run out of space this week and must close our story at this time. A good day to you all.
Books of Interest:
Hitchcock's Notebooks; An Authorized and Illustrated Look inside the Creative Mind of Alfred Hitchcock by Dan Auiler. From a couple racing across the top of Mount Rushmore to a woman's final shower at an isolated motel, no other filmmaker has given movie fans more unforgettable images or heart-pounding thrills than Alfred Hitchcock. Now for the first time, you can finally share in the Master of Suspense's inspiration and development -- his entire creative process -- in HITCHCOCK'S NOTEBOOKS. With the complete cooperation of the Hitchcock estate and unprecedented access to the director's notes, files, and archives, Dan Auiler takes you from the very beginnings of story creation to the master's final touches during post-production. Actual production notes from Hitchcock's masterpieces join detailed interviews with key production personnel, including writers, actors and actresses, and his personal assistant of more than thirty years. Mirroring the director's working methods to give you the actual feel of his process, the book explores the production files of SHADOW OF A DOUBT, STRANGERS ON A TRAIN, NORTH BY NORTHWEST, and others, as well as the legendary lost works: THE MOUNTAIN EAGLE and the unfinished film KALEIDOSCOPE. Highlighted by nearly one hundred photographs and illustrations, chapters focus on finding and constructing the right story (featuring interviews with such renowned screenwriters as Charles Bennett, Samuel Taylor, and Ernest Lehman); envisioning the film (from storyboards to set design); the filming (spotlighting Hitchcock's innovations and trick shots); music; and much more. No fan or film student should be without this definitive guide to the renowned filmmaker's art.
The Art of Alfred Hitchcock Fifty Years of His Motion Pictures by Donald Spoto. This completely revised and updated edition of the classic text describes and analyzes every movie made by master filmmaker Alfred Hitchcock.
Hitchcock on Hitchcock (Directors on Directors Series) by Alfred Hitchcock, Sidney Gottlieb (Editor). The "Master of Suspense" weighs in on his lengthy career in this collection of excerpts from over 40 years of writings and lectures. Here he discusses his style, filming techniques, individual films and his working relationship with his actors. Did he think that actors are like cattle, or only that they should be treated like cattle? The essays include "Why I Am Afraid of the Dark," "Why Thrillers Thrive," and a whimsical but revealing essay, "Women Are a Nuisance."(apparently, something about men being better actors - Ed.)
Hitchcock Poster Art by Tony Nourmand (Editor), Mark H. Wolff (Editor). In honor of the centenary of Mr. Hitchcock's birth, a remarkable collection of memorabilia has been gathered in full color layouts. Promotional posters, lobby cards and more cover 39 of the director's films. Some items are so rare that they are the only copy known to still exist. The editors, movie art and Hitchcock experts, have located items from around the world. This book is a must-have for any true Hitchcock, movie or poster aficionado.
Also visit these related sites:
Hitchcock - His True Power is Emotion - An article by famed director Francois Truffaut ran in The New York Times on March 4, 1979. You may want to do a site search for "Alfred Hitchcock" as the New York Times has a wealth of articles archived online.
Alfred Hitchcock Retrospective: Is That Ticking (Pause) a Bomb - An entertaining article by director Peter Bogdanovich illustrates the lighter side of Hitch. This one is also from The New York Times and includes his "elevator story."
The MacGuffin - The MacGuffin explained.


Help provide advanced technology bionic arms to the war victims of Ukraine
Classic Articles Portfolio - Policy & Contact Info - New Home Page
Copyright 1998 - 2022 by John E. Shepler. Secure APS. Contact me at: John (at) JohnShepler.com
Sponsored by Telexplainer - We proudly offer Enterprise VoIP, MPLS Networks Today, Blue Wave Election, Write is Might, Rural Broadband, Cloud Brokerage Service, Cloud Computing Carriers, Gigapacket Tech Gifts, Copper Ethernet, Fiber Network Quotes, Ethernet over Copper, Cloud Networking Services, Help an Elephant, Loves Elephants, Ether Rabbit, MPLS Networks Today, Ethernet Today, DS3 Today, T1 T3 Today, Ethernet Buildings, MegaTrunks, Gigapackets Fiber Optic, T3 Rex and T1 Rex. We are members of numerous affiliate programs, including the commercial telecom services of Telarus, Inc and specially designed products through our Gigapacket Store on Zazzle.