Mia Hamm, World Class Soccer Champion
A talented young woman athlete's rise to fame
By: John Shepler
It is the 1999 Women's World Cup Soccer Championship. The Rose Bowl in Pasadena, California is filled to overflowing with nearly 100,000 fans, some with faces painted to look like American flags, all wild with excitement. On the field, a dark-haired 27 year old athlete stares intently at her opponent. Mia Hamm has that no-nonsense focus of an aggressor. On this field, at this time, no one can break her concentration, dampen her will to prevail or get by her unchallenged. The heart of this champion is made of steel. Or is it?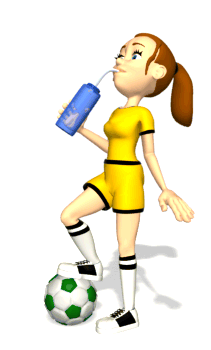 Mia Hamm has been called notoriously shy, humble and strikingly attractive. She's also been called America's secret weapon, "the most dangerous forward on the field." Her charitable foundation, "a reflection of my life experiences," is chartered to support bone marrow disease research and to promote the growth of opportunities for young women in sports. She has that paradoxicalcombination of killer instinct and caring soul that is the heart of a real world class champion
Mia's life experiences include growing up as the daughter of a U. S. Air force colonel, a military fighter pilot. Her mother was a ballet dancer. Bill and Stephanie Hamm had six children, including Mia who was born in Selma, Alabama. As a military family they moved quite a bit, including time in California, Texas, Virginia and Italy. Her brothers and sisters became her soccer team at about age 7, and may have given her the sense of persistence that is needed to really achieve in any field. Mia was intensely competitive and loved to play games. As much as she loved to play and win, she hated losing with a passion. She hated it so much that she'd just quit if the game wasn't going her way. She claims that she always had it in mind that she could just walk away at any point in the game. However, her siblings had enough of that approach pretty quickly and refused to play with her unless she stuck it out no matter what. She hasn't quit since.
Mia Hamm had talent and a burning desire to win, but another factor may have played an important role in her rise as an athlete. She was among the first generation to grow up with equal emphasis placed on boys and girls sports. Before 1972, boy's sports were predominant in high school and college. Football, basketball, track and field, baseball and most others were geared toward young men developing their talents, playing competitively with other schools and gaining scholarships to college. Girl's sports were barely supported. Girls were just 1 percent of all high school athletes and received just 2 percent of college athletic budgets.
What changed was enactment of Title IX of the Education Amendments. Senator Birch Bayh and Representative Edith Green sponsored that legislation and got it passed in 1972. It mandated equal opportunity for both boys and girls in schools receiving federal funding. Now, 27 years later, the girls' basketball teams get as much press as the boys, women's Olympic events draw at least as much attention as men's, and a whole generation of American kids has discovered a world sport, soccer, where both sexes are starting out with equal opportunity to play and be recognized.
Mia Hamm was first scouted as an athlete when she was only 14 years old and playing in Texas. University of North Carolina Tar Heels head coach Anson Dorrance knew right away she had a special talent, and one that he could develop for UNC. He was right. Mia helped her team to win four NCAA championships with North Carolina and ended her collegiate career as the all-time leading scorer in goals, assists and points. Her jersey, number 19, was retired in 1994.
Mia was the youngest woman ever to play with the U.S. National Soccer Team at the age of 15 and youngest member of the 1991 Women's World Cup Team at 19. Named Women's World Cup MVP in '97 and '95, when she even played several minutes as goalkeeper. She's also been named U.S. Soccer's Female Athlete of the Year for an unprecedented 5 years in a row, '94 - '98.
In the midst of her rise to fame, Mia's family was struck by tragedy. Her older brother, Garrett, A Thai-American orphan adopted by the Hamms, was diagnosed with a rare blood disorder, aplastic anemia, when he was just 16. He needed a compatible bone marrow donor for a transplant to save his life, but his Thai-Anglo heritage and lack of known biological siblings made that a difficult proposition. Desperate to help locate such a donor, Mia Hamm used her considerable notoriety to advertise for volunteers. They found a donor, but Garrett contracted a virus and died following the transplant at age 28, leaving a wife and son.
Not one to give up anymore, Mia formed a foundation to support bone marrow disease research and formed the Garrett Game, an all star event played by her U.S. Soccer teammates and top college players. The second annual Garrett raised $150,000 in 1998. At half-time they brought together marrow donors and recipients for the first time, an event which Mia described as her "most satisfying moment away from the field."
Mia's foundation also works to ensure that the next generation of young women will have even greater opportunities to participate, excel and be recognized for their talent in sports. It's her way of recognizing that others paved the way for the opportunities she's enjoyed, and now she chooses to pave the way for others to come. It's the spirit of a truly World Class Champion.
Books of Interest:
Go for the Goal: A Champion's Guide to Winning in Soccer and Life by Mia Hamm, Aaron Heifetz. A book of personal anecdotes about Mia Hamm combined with instructional photos to help you become a better soccer player. It's a must-read for aspiring young players and an inspiration for those who choose to excel at careers other than athletics.
On the Field With...Mia Hamm by Matt Christopher. You'll devour every detail of this biography of the world's best women's soccer player.
Mia Hamm by Mark Stewart.
Girls Who Rocked the World 2, Heroines from Harriet Tubman to Mia Hamm by Michelle Roehm and Jerry McCann.
Nike Is a Goddess: The History of Women in Sports by Mariah Burton-Nelson, Lissa Smith (Editor). Twelve original narratives, each focusing on the top female athletes in different sports, are brought together into one volume. Includes chapters on soccer, basketball, baseball and softball, tennis, golf, figure skating, gymnastics, and track-and-field as well as canoeing, kayaking, rowing and sailing, equestrian sports, and ice hockey. Read about Nadia Comaneci, Mary Lou Retton, and Kerri Strug. Also, Babe Didrickson Zaharias, Billie Jean King, Jackie Joyner-Kersee, and Sheryl Swoopes.
Also visit these related sites:
Mia Hamm Foundation - supporting bone marrow disease research and opportunities for young women in sports.


Help provide advanced technology bionic arms to the war victims of Ukraine
Classic Articles Portfolio - Policy & Contact Info - New Home Page
Copyright 1998 - 2022 by John E. Shepler. Secure APS. Contact me at: John (at) JohnShepler.com
Sponsored by Telexplainer - We proudly offer Enterprise VoIP, MPLS Networks Today, Blue Wave Election, Write is Might, Rural Broadband, Cloud Brokerage Service, Cloud Computing Carriers, Gigapacket Tech Gifts, Copper Ethernet, Fiber Network Quotes, Ethernet over Copper, Cloud Networking Services, Help an Elephant, Loves Elephants, Ether Rabbit, MPLS Networks Today, Ethernet Today, DS3 Today, T1 T3 Today, Ethernet Buildings, MegaTrunks, Gigapackets Fiber Optic, T3 Rex and T1 Rex. We are members of numerous affiliate programs, including the commercial telecom services of Telarus, Inc and specially designed products through our Gigapacket Store on Zazzle.