Shooting Stars,
The Reggie and Cheryl Miller Story
By: John Shepler
In the summer skies of California, there are stars that young boys and girls wish on, hoping their dreams will come true. It's the magic that mothers and fathers share with their children, what mothers and fathers have passed down through the generations to each youngster who catches sight of their first meteor streaking across the heavens. "When you wish upon a star..." It rings almost as a promise, a certainty of fortune.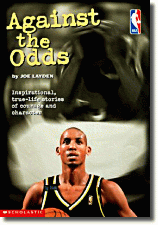 One young boy is not so sure it applies to him. He twirls the orange ball between his finger tips and looks down at the metal braces that grip and imprison his twisted legs. It's his legacy of birth. Hips deformed, ankles turning inward. Perhaps the stars have already cast his fate. Perhaps he is forever destined to sit by the window and look out at other children running and jumping and shooting the basketball in a long-reaching arc through the summer sky. At night, if it were luminous, that ball might be mistaken for another shooting star. In the light of day, its flight and swish through the net is a painful reminder that dreams can be so close and yet impossible to reach.
His mother sees the same ball, the same children, her children, and the same window. They are destined, all destined, including the one she must fit with metal braces and orthopedic shoes. "You'll be out there soon, honey. You've just got to get your legs stronger."
They are special parents of special children. Saul is a chief master sergeant in the U.S. Air Force. Carrie is a nurse. At casual glance, you might see them as just decent ordinary folks with a special burden of caring. Yet there is some magic that they are passing down to their children. "The doctors say I'll never walk without a limp." "The doctors are wrong, son. They are wrong. You will walk. You will run. You will play basketball."
In the future of two decades hence, there is a vision. It's a scene of two children, now grown, now Olympic champions. A boy and a girl, a man and a woman, a brother and a sister, esteemed as world class athletes, earning their living as renowned professionals in the world of sport. But is this a vision of what will be or a fanciful wish upon a shooting star? After all, girls don't earn their living as stars of professional basketball, and boys with crippled legs don't play basketball at all.
Just as he was entering grade school, the braces came off for little Reggie. His legs gained strength and he walked. Then he ran. Then he played basketball. Just like mom and dad said would happen. He twirled the ball between his fingers again and then took it outside to the court. Sis was waiting. No matter that he was younger and smaller. No matter about what happened at birth. If they were going to play basketball, they were going to play serious basketball, and Reggie better step up to it. He did, though it was a constant challenge to get the moves on his more experienced sister.
Soon Reggie discovered a play that would let him win. He moved back. To the back of the court, to the rose garden 25 feet from the basket. When mom wasn't minding her garden, he taught himself to nail that shot. Then it didn't matter if his sister was taller or the other guys were bigger. He just got back, way back, and launched his shots like long arcing meteors, way over their heads.
All five children became standout athletes, but Cheryl and Reggie developed something special. They teamed up, the girl and the skinny kid, and hustled their peers in two on two basketball in the park. Eventually, it didn't work anymore. They got known and the ruse was over. They took their talents to the high school teams and then on to college. They were no longer a duo, but each a shining star in his and her own right.
Now, decades after that moment at the window, we can see that the vision has become the reality. Cheryl Miller came to national attention as she led her college team, USC, to consecutive national titles in 1983 and 1984. In her last three years, she was national college player of the year. In 1984, she led the U.S. women to their first Olympic gold medal, and was inducted in the Naismith Memorial Basketball Hall of Fame in 1995. Today she is Head Coach and General Manager of the Phoenix Mercury professional team of the WNBA.
Reggie Miller has honed his long distance shooting skills to a fine art in his 11 seasons with the Indiana Pacers of the NBA. He is a three-time All-Star. This year he ranked 17th in the NBA in scoring, 7th in free-throw accuracy and 8th in three-point accuracy. He, too, achieved Olympic gold with the 1996 American Dream Team in Atlanta. Legendary player, now coach of the Indiana Pacers, Larry Bird has noted how mentally tough Reggie is. He asks for the ball in tough situations and actually improves his play when opposing fans boo him. The origins of that instinct to rise in the face of adversity no doubt go back to those days looking through the window and then down at the braces, and perhaps to the words "The doctors are wrong. You will walk. You will run. You will play basketball."
Books of Interest:
Against the Odds by Joe Layden. Inspirational, true-life stories of courage and character. The above article is based in part on the story in this book. In addition to Reggie Miller, there are stories about Nick Anderson, Chris Gatling, Steve Kerr, Alonzo Mourning, Chris Mullin, Carlos Rogers and Jayson Williams. Each of these men has overcome personal hardship to make it to the top of the basketball world. This small, inexpensive book can have a positive influence for children and adults alike. Consider giving copies to everyone in your life who could use some personal inspiration.
I Love Being the Enemy, A Season on the Court with the NBA's Best Shooter and Sharpest Tongue by Reggie Miller, Gene Wojciechowski and Spike Lee. The best shooter and the sharpest tongue in the NBA offers his take on such topics as the New York Knicks, the mental side of the game, determination, and his sister, Cheryl.
Also visit these related sites:
NBA - Official site of the National Basketball Association
Reggie Miller Stats - Complete stats on retired NBA star Reggie Miller, courtesy of Basketball Reference
Cheryl Miller - In-depth article about the career of former WNBA star and coach Cheryl Miller, courtesy of Sports Illustrated.


Help provide advanced technology bionic arms to the war victims of Ukraine
Classic Articles Portfolio - Policy & Contact Info - New Home Page
Copyright 1998 - 2022 by John E. Shepler. Secure APS. Contact me at: John (at) JohnShepler.com
Sponsored by Telexplainer - We proudly offer Enterprise VoIP, MPLS Networks Today, Blue Wave Election, Write is Might, Rural Broadband, Cloud Brokerage Service, Cloud Computing Carriers, Gigapacket Tech Gifts, Copper Ethernet, Fiber Network Quotes, Ethernet over Copper, Cloud Networking Services, Help an Elephant, Loves Elephants, Ether Rabbit, MPLS Networks Today, Ethernet Today, DS3 Today, T1 T3 Today, Ethernet Buildings, MegaTrunks, Gigapackets Fiber Optic, T3 Rex and T1 Rex. We are members of numerous affiliate programs, including the commercial telecom services of Telarus, Inc and specially designed products through our Gigapacket Store on Zazzle.